I had a hard time finding a 1967 GTA 390 Convertible. Then I heard about a Danish guy living in California, who specialized in classic cars. I contacted him and he agreed to start looking for one. Over the next year, two popped up that he went to examine. The first one was too rotted. The second was more promising. It was located in Arizona, so the car guy had quite a trip ahead of him, but since the seller had passed lots of promising pictures and a Marti report confirmed it to OK, we took the chance. The long trip turned out to be a waste of time, as the car was in very bad shape and not even legal. The documentation had been messed with and the VIN number had been replaced:
The police were informed but I don't know if they did anything about it. I later heard it went to Australia.
Then, just before Christmas 2004, one was listed on eBay. It was located not too far from, where my car guy lived at the time, so it was easy for him to check it out. After going through it, he came back saying it had some issues, but nothing too scary. It had some strange colors and other oddities, but was pretty solid. Most important, the Marti report I ordered, confirmed it to be the real thing. I won the auction and my car guy picked it up. He pulled the fenders to see, if the hidden
VINs matched the visible ones, which they did. Another thing pointing in the right direction, was that under the fender, a bit of its original Lime Gold color showed up.
The car was prepared for the long trip to Denmark and trailered to the harbor in Long Beach.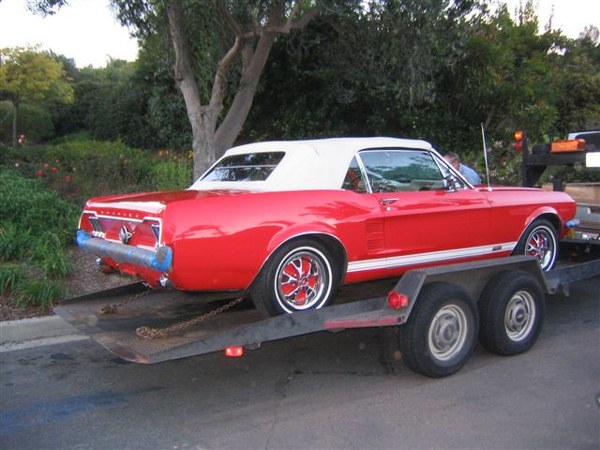 A couple of month later it arrived to its new home.